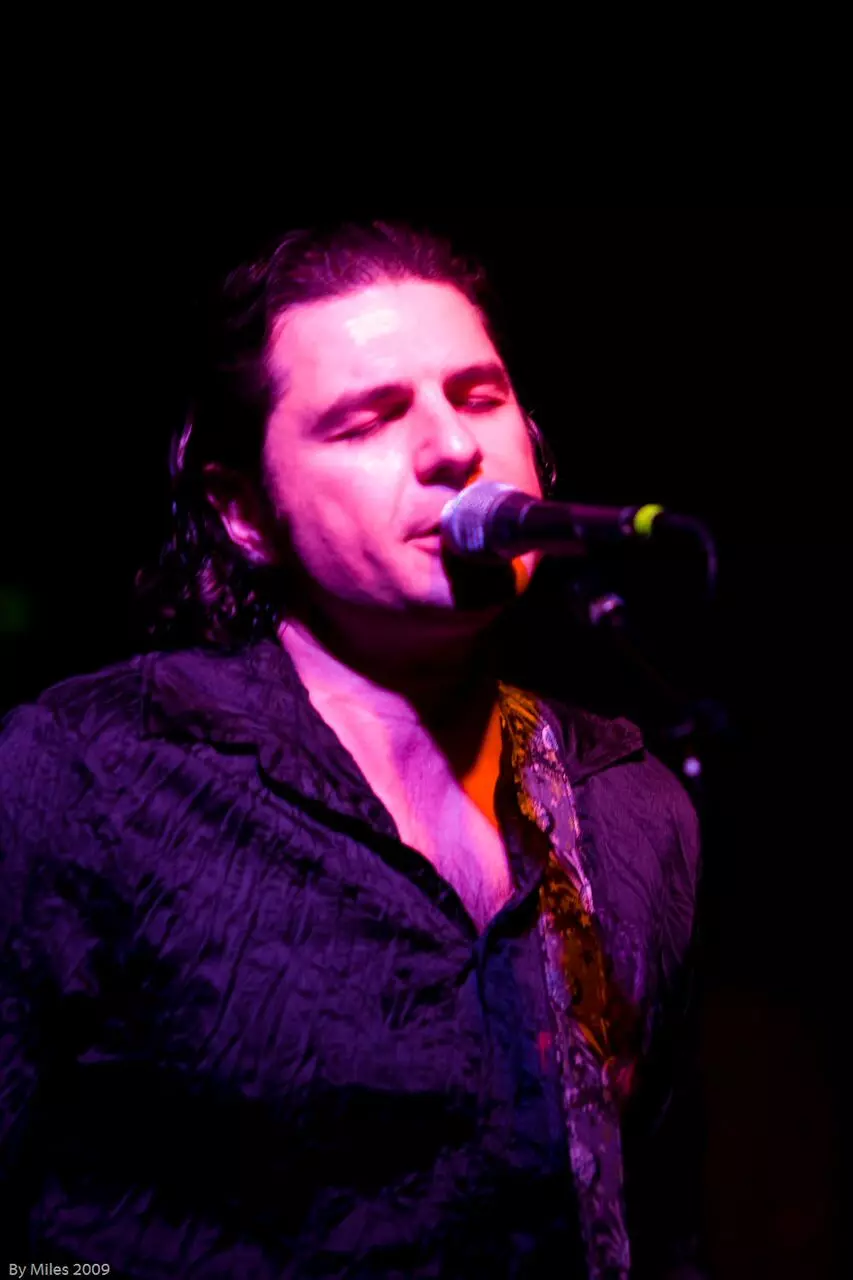 The Australian Rock & Roll Star
Don't Let Your Dreams Ever Die
From the age of ten, Aldo Leopardi knew in his soul that he wanted to be a musician. All it took was seeing AC/DC's "Jail Break" on the television and he was hooked. Musically, Aldo's early influences also included KISS, Led Zeppelin, The Beatles, David Bowie and Stevie Ray Vaughan, whom he idolized and who served as an early inspiration to follow the calling of Rock. Raised by his mother in Adelaide, Australia, learning to play guitar was not going to be easy, but Aldo learned early in life to never turn away from a difficult task. His mother made him a deal; do all the research and find a suitable guitar teacher and she would support him. This was the first step toward the realization of Leopardi's musical dream and he hasn't looked back since.
By his teen years, Aldo was playing gigs in Australia and by his early twenties; he was self-producing and recording his music. At the same time, Aldo Leopardi was a successful student in Dental School, yet always appearing on the rebellious side, sitting in the back of class, sporting a classic black AC/DC muscle T-shirt, crazed hairstyle and ear-ring. Soon, he was managing a thriving career as a Dentist. Yet, Aldo always had a plan; quit dentistry, go to Los Angeles and play music. He recognized, however, that the music industry stacked the odds against the artist. It would be a very difficult undertaking, but Aldo was not to be deterred. He made himself a personal promise to increase his odds, financially and creatively, and take control of his musical destiny.
Eventually, Aldo moved to the United States, embarking on a new adventure, the first phase of his plan. Begrudgingly, that phase required putting his music career on hold while he worked endless hours to become a leader in his professional career as a highly specialized dentist (Prosthodontist – cosmetic and reconstructive dentistry). While becoming that leader, Aldo never strayed from his love of music, it was the very passion that fed his soul. The music was always there and Aldo soon knew it was the time to fulfill that promise.
It took Aldo three years to record his self-titled album (2006 release), with every spare moment spent in the studio where he wrote, arranged, sang, performed and produced. His influences ranged from the classics, The Beatles, The rolling Stones, Led Zeppelin, AC/DC and Van Halen, to today's Foo Fighters, Sound Garden, Linkin Park, Powderfinger, and Eskimo Joe. Giving a fresh edge to the classic, guitar driven rock sound, Aldo instantly appealed to a diverse group of fans with his live performances too. Using his own highly precise management skills and unwavering tenacity, Aldo was now doing music on his terms with the start of his own record label, Backslash Records. Along with producer Mike Vargas and director Jordan Horowitz (MTV's Viva La Bam and Newlyweds), he shot the music video for his song "Always Be". Aldo Leopardi's plan had come to fruition. He was living his dream; recording music, performing elaborate live productions and even creating a high caliber music video. Simultaneously, Aldo was touring the U.S. as a much sought-after speaker in field of complex aesthetic and implant Dentistry.
In 2010, Aldo paired up with producer Lee Miles The Red Jumpsuit Apparatus, Darling Thieves, Puddle of Mudd and Tickle Me Pink among others, in addition to fronting the band Oh My Stars and Super Naked). The EP Villains and Heroes, Aldo's second release, was an innovative mixture of rock/alternative music along with edgy subject matter, drawn from real life experiences. Other contributions on the disc came from Tickle Me Pink guitarist Steven Beck, engineer Jason Livermore (from the Blasting Room studio, he has worked with Rise Against/Gaslight Anthem/Descendents, Tickle Me Pink among others) and engineer Jason Larson (new Dalton- Hickman Gang album featuring Johnny Hickman and Jim Dalton).
Aldo and Lee rapidly developed a musical chemistry that drove their collaboration on material for the EP. Lee penned the track "Not Enough", inspired by personal experiences, specifically to highlight Aldo's vocal talents. Aldo said, "I gravitated immediately to the message and melody. I felt it was a great fit for my voice and also what I have personally experienced in my life." On the track, "Love", Aldo notes, "Dave Astaire, a Mate and co-songwriter from Australia, wrote the original. I later re-wrote the lyrics and changed the arrangement to reflect some of the angst I was feeling, essentially, why is love so difficult to find and hold onto." He also wanted to pay homage to his rock influences, such as AC/DC and The Angels from Australia, by composing a song with a heavy guitar riff coupled with a catchy chorus. Lee further enhanced the track with additions to the lyrics and arrangement. "My Parade" was developed through a great group effort from the boys in Aldo's live line-up. The core lyrics were written by Aaron Lane and Aldo, reflecting on the egotism of their youth; "how we thought we knew so much," Aldo laughs, "but of course, we knew shit!" Ultimately, the song is a message of independence from social and religious dogma. The inspiration behind the two-part "The Villain" and "The Hero" came from Aldo's own experiences. It tells the story of a failed relationship, the jaded process one goes through, and then dealing with the reality and the pain.
March 17, 2016 marked Aldo's return with his 3rd release, "VICE". He re-united with "Villains and Heroes" producer Lee Miles, and co-collaborator Aaron Lane, to write and record this record. This five song EP continues to showcase Aldo's maturity as a song writer and singer, with a focus on Adult themes. Aldo explains, "In life, we often tend to break things down and compartmentalize our experiences into black and white. This record focuses on the grey of life, both in complex adult relationships and self awareness." A diverse range of rock genre sensibilities are exceptionally explored in this new record. However, the Aldo Leopardi quintessential Rock sound still forms a foundation for this exciting sonic release.
The first song "Calling", written by Lee Miles, explores the heart felt anguish of "reaching out one last time to a lost love". A song Aldo connected with immediately and gladly recorded, showcasing his vocal range, emotion and diversity. "Vice", the title song on the record is a brutally honest exploration of one of the most taboo and tumultuous relationships one may find themselves in. This high energy yet dynamic production packs a punch, a welcomed addition to the Rock genre. "Killing the Game" explores the quagmire of our modern lives; that of combating the social dogma and economic challenges we invariably face, all of which eat away at our ability to live for today. This song reflects Aldo's attitude to never lose site of making the best of each moment. The haunting hooks and retro feel are reminiscent of British 80's icons "The Cure", drawing you into it's hypnotic musical journey. "Breathing" is an exploration of coming to terms with rejection, from both perspectives in a faded relationship. A dynamic guitar driven piece, this track showcases Aldo's guitar and vocal ability. The final track, "Reminiscing" takes the listener on an engaging, enlightening journey down memory lane. This acoustic 12-string guitar driven track is the most recent of Aldo's writing, exploring tangential, colorful and uplifting rhythm and melody trips. The subject matter explores what we sometimes find ourselves doing, reminiscing about past relationships that have touched our lives.
In 2017, Aldo teamed up with Los Angeles based video producer Brad Scott for the making and release of the "Vice" video. Two versions were produced, a performance video and "tongue and cheek" story line version.
Aldo Leopardi has proven himself a constant professional within his dental career, and a rising force on the music scene. Time may pass and paths may alter, but Aldo knows that to succeed in anything, never lose sight of your goals. He is an example to follow your dreams and share your passions.