The new Aldo Leopardi record is almost here! Following Aldo Leopardi's hit self-titled debut, Villains & Heroes shows the evolution of the irreverent Australian rocker, both as a songwriter and a performer.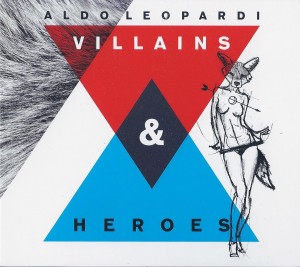 Villains & Heroes is a five-song EP consisting with all original songs. On this record, Aldo Leopardi takes his signature guitar and vocal style and embraces a more modern rock sound. From fist-pumping sing-along's to acoustic-driven ballads, Aldo Leopardi's newest record covers a vast amount of ground both sonically and lyrically. Thanks to producer Lee Miles, the recording comes together crisply and powerfully, remaining steadfastly true to Aldo Leopardi's high energy on-stage presence. Known for his work with Oh My Stars, Lee collaborated closely with Aldo to bring the new material to life in a way that captured what Aldo Leopardi's music is all about.
EP opener "Love" is a hooky guitar rock track that shows off Aldo's virtuosity as a guitarist and singer. The second track, "Not Enough" is a Lee Miles song interpreted by Aldo Leopardi which showcases the instant chemistry between these two musicians. "My Parade" is an attitude-laced anthem that flexes the full muscle of a dynamically structured rock song. The EP closes with the two-part title track "The Villain & The Hero." Capping the EP's conceptual themes and rock motifs, "The Villain" begins pensive and heavy. The song builds to an epic resolution in "The Hero" that proves that the power ballad has never been more relevant.
Villains & Heroes will be released in the summer of 2011 by Backslash Records and will be available on iTunes. Preview Villains & Heroes in high fidelity by clicking on "Listen Now" at the top of the page.
Villains & Heroes was recorded at Backbone Studio in Lovelend Colorado with sound engineer Jason Larson. Mixed and Mastered at The Blast Room in Fort Collins Colorado with sound engineer Jason Livermore. Other contributors to the EP include Steve Beck, Greg Dyer, Aaron Lane and Muno Wahab.